COURTAIN MATERIAL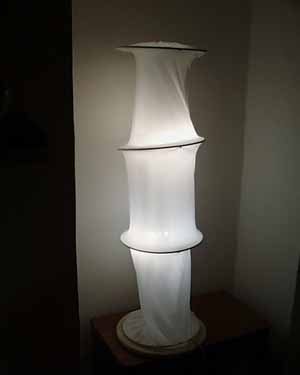 SIZE (Centimeters): diam.36 h.105
MATERIALS: marble
iron
curtain material
Warning: the courtain material is not original.

INFORMTION SENT BY E-MAIL:
Subject:
curtain lamp
Date:
Sun, 14 May 2000 02:38:45 +0200
From:
Mathijs van Manen <eurogenie@csi.com>
To:
romizi@ftbcc.it
the original design is from Bruno Munari, the famous italian designer.
love your museum, thanx
mathijs vanmanen,
euroGenie management, amsterdam
Thank you mathijs
Gianni


Please if you've more information on this light, write us.
Thank you.